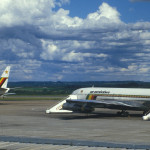 Zimbabwe's National Airliner, Air Zimbabwe plans to resume flights to London  United Kingdom after abandoning the route for close to four years.
Acting chief executive Mr Edmund Makona told local television that Air Zimbabwe will soon resume flights to London after negotiations with creditors.
"Our current business strategy is anchored on the need to return to profitability and route network expansion," Makona told ZBC News.
The airline ditched UK flights in 2012 after creditors threatened to seize its planes over mounting debts.
Air Zimbabwe currently flies to Johannesburg, South Africa, the Far East and other regional routes.
Zimbabwe's national carrier has struggled to remain profitable in the face of competition from Ethiopian, Kenyan and South African Airways.
Things can change for the better if it can win the hearts of thousands of Zimbabwean travelers who usually rely on the above airline services for their journeys.
Many Zimbabweans in UK relied on Air Zimbabwe for cheaper flights tickets and fast parcel shipping services.