Matobo Hills National Park Zimbabwe
Things to see and do at Matopos Hills near  Bulawayo City in south western Zimbabwe.
The mountains are a fascinating UNESCO World Heritage Site with  high concentrations of rhinos, stone age rock painting art , birds of prey and leopards per given area.  It is a protection zone for Zimbabwe's endangered animals. This is not an ordinary park as it offers a lot in terms of fauna, flora and Zimbabwe's ancient and modern history. For those interested in watching and studying leopards this is the place to be.The number is largely due to the abundance of food and the rocky landscape. The park has got plenty of hyrax which is the main food for leopards. Rhinos, zebras, giraffes, cheetahs, waterbucks, duickers, hippos, elands, kudu, hyenas , crocodiles, sables and wildebeest can also be seen in the park.
Matobo Hills is  definitely one small amazing place with so much to offer!
Matobo National Park 
Main Highlights
Matobo Hills' Birds Of Prey
Matobo National Park has the world's largest concentration of black eagles. It is common to see them soaring above hills and rocks in search of food. The place also has the largest number of black eagles breeding pairs in the world. It is remarkable to note that about 34% of the world's known 48 eagle species are found in Zimbabwe at Matobo National Park. You are likely to see a large number of other birds of prey. The unusual large number is likely due to the rock and cave formations which is a source of shelter and food.There are several species of snakes and lizards in and around Matobo Hills. You are likely to encounter fish eagle, francolin, martial eagle, African hawk eagles, snake eagles, pied crow, secretary bird, weavers, the rare Cape (Mackinder's) Eagle owl and Egyptian geese. The caves have a very large number and variety of owl species.
'Stone Age' Rock Art & Paintings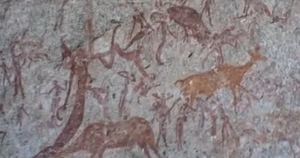 Matobo Hills has a very large concentration of historic and ancient San rock art painting. These paintings were done by stone age artists also known as 'Bushman' depicting their main cultural, economic and social activities like hunting and gathering.
There are close to 3500 registered stone age art sites in  and around the Matobo hills.
This gives Matobo the highest concentration rock and stone art paintings per given area in the world. Most of the painting and rock art can be seen at the following caves:• Bambata Cave• Inanke Cave• Nswatugi Cave• Pomongwe Cave and White Rhino Shelter. The most notable animals painted on rocks are giraffes, elephants, kudu, rhinos, warthogs, tsessebe and mongoose. It tells that a large number of wild game used to be found in the area in years gone by.
'Mother and Child' Balancing Rocks
Matopos is home to the Mother and Child balancing rocks.Due to the abundance of granite stone and the unique landscapes, it is no surprise that Matobo Hills have this unique rock formation.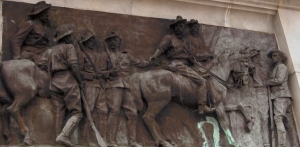 Matobo Hills & Cecil John Rhodes
Motobo Hills is a burial site for a number of people who have helped to form and shape the history of modern day Zimbabwe. Some of the people are King Mzilikazi, a great and famous Ndebele King. Motobo is also the place where some well known British colonial settlers are buried. Visitors can see the graves of Cecil John Rhodes, Leander Starr Jameson, Allan Wilson and Shangani Patrol members(pictured) who are buried at the top of Malindidzimu Hill, also known as the World View. Cecil John Rhodes' grave is source of controversy and a favourite attraction to many tourists and local visitors.
More Highlights
Matobo is not just for site seeing, it is conducive for sporting and recreational activities. Amongst the popular things are bird watching, boating, fishing, walking, rhino tracking, horse riding, game viewing and hiking. It is also home to The Annual Matobo 33 Miler Road Race.This is a 33 miles or 54 km marathon done from Matobo National Park to the City of Bulawayo. The first winner in 1963 was a South African, Charlie Chase with a record time of 3hours, 44 minutes and 55 seconds.