Chimanimani National Park Map & Pictures
Chimanimani mountains are located at Chimanimani National Park, Eastern Highlands Zimbabwe, between Chipinge and Mutare on Zimbabwe's border with Mozambique. With some hotel and tourist accommodation, its a perfect holiday retreat.
This is one of the 'secret places' worth discovering if you are visiting Zimbabwe. The park is deliberately 'not developed' so as to maintain the natural beauty. Mount Binga shared by Zimbabwe and Mozambique is the  second highest mountain in Zimbabwe and the highest in Mozambique.
The Chimanimani Mountains include, Mount Peza, Mount Binga, the Sphinx and Mawenje Range all located within the National Park. The mountain is 2440 meters high, with numerous gorges alongside. On clear days one  can see the Indian Ocean through Mozambique. You need necessary items and supplies if you to do hiking in the mountain peaks. Visitors to Chimanimani also see beautiful waterfalls including Bridal Veil waterfall, Bundi Falls,Tessa's Pool & Waterfalls, Muhohwa Falls, Haroni Waterfalls & Mukurupiri Falls. The Bridal Veil Waterfall is the most spectacular of them all.There are very few places with Bridal Veil Falls in the world, the other countries in Africa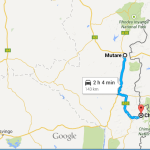 with bridal veil waterfalls are Reunion Islands and South Africa. There are a total of 40 recorded Bridal Veil Falls in the world. They are found in Zimbabwe, South Africa, Reunion Islands(France), The Philippines, USA, Canada, New Zealand, Norway and Australia. Tessa's Pool & Waterfall is one of the most well known. It is named after Tessa Ball, the daughter of a famous botanist Mr John Ball.The pool and waterfall have some rocky beach and palm trees around.
Chimanimani National Park Wildlife
Rare Palm Tree: Chimanimani Mountains is home to one of the rare palm trees.It is known as Barrosus Palm Tree. A picture and more description of the tree will be posted on this blog. There are also other rare plant species found around the place. Wild Animals: Chimanimani Mountains have a small number of game compared to other places. There are rare sightings of leopards. There are many baboons in the area. The park also has eland sanctuary, blue duickers, bush buck, sables and klippspringers.
Chimanimani is nearer to Gonarezhou National Park located in Lowveld Zimbabwe