Lake Kariba Tourist Resort 
Kariba Dam is a fascinating place for safaris and water based activities.  It is renowned for its  safaris, houseboats, tiger fishing and large African wild animals found on the shoreline. See Pictures below.
Kariba forms a  huge water body (Lake Kariba)  on the Zambezi river marking Zimbabwe and Zambia's national boundaries. Here big and small animals including rhino, elephant, lion and buffalo will visit the lake to drink water.The lake itself is renowned for the elusive African 'fighting' tiger fish.
 pictures by D.F.P
Matusadona National Park  (pictured above) is a wilderness right on the shores of the Lake. There is also Charara and Chete Safari areas on the edges of the lake. Nearby is Chizarira National Park, a less travelled place.
Houseboats Safaris
Kariba Dam offers a number of water based activities like fishing, canoeing, wake- boarding and speed- boating. Kariba houseboats are a source of attraction to many tourists. The abundance of wild animals from game parks on the shores of the lake give tourists and visitors a 'double experience'.Game viewing and fishing are the most favoured activities by many travellers who use boats to get closer to wild animals.  The boats can be boarded from Binga, Mlibizi, Sinamwenda, Bumi Hills, Tashinga, Charara/chalala and Kariba Town.
Tiger Fishing
Kariba Dam is a top destination for Tiger Fishing safaris. There is plenty of fighting African Tiger Fish. With interlocking teeth, this is a monster fish capable catching birds in flight.The largest tiger fish ever caught on the lake weighed 16, 1 kg. There are several fishing lodges in the area. Some resorts have fishing boats and canoes that can be rented by tourists.Kariba Dam is home to the annual Kariba Invitation Tiger Fishing Tournament. The international fishing tournament is attended by guests from different parts of the world. Over 50 competitions have been held since 1962.
Places & Access
Important Locations
Kariba Town
Kariba Town was built in the 1950s as a temporary compound to accommodate labourers who were building the dam. It later developed into a town. Today there are over 30000 people living in Kariba Town.The town is the main service centre for tourists and visitors. It has many accommodation facilities like restaurants, bed and breakfast, hotels, lodges and guest houses.The main economic activities of the town are tourism and kapenta fishing.
Bumi Hills
Bumi Hills  is located on the coastline of Lake Kariba, Bumi Hills is a paradise in the wilderness. Guests to this less known resort will have a rare privilege, a lake coastline on one side and wild animals on the mainland. Only accessible by small planes, speed boats and off road trucks, this is a place to be if you want intimacy with mother nature. It is very rare not to have encounters with Africa's big 5. This area has been used for weddings, conferences, guided safari walks, bird watching, tiger and bream fishing. Bumi hills camp is located right on the shores of lake Kariba. The place is about 65 kilometers from Kariba town.
Binga Town
Binga Town  is located on the south eastern coast of Kariba Dam, Binga became home to the Tonga people following the creation of Kariba Dam which robbed them of their ancestral lands in the Zambezi valley. The name Binga can be translated to mean a thick forest which is a fitting description of the area. Regardless of this history, there are many things to see and do while in Binga. As in the rest of the Lake Kariba zone, Binga has got a lot to offer in terms of wild life and fishing. It is close to Chizarira National Park and Chete Safari Area with descent lodges for short and long stay, Binga town is ideal starting place if you are exploring the Lake Kariba area. There are several fishing lodges in the area. The place has got a habour for Kariba house boats and ferries that may be used to transport people and small vehicles to the other end of Kariba Dam. This makes it easy to get to Kariba Dam without having to take the long way round.
Msuna Island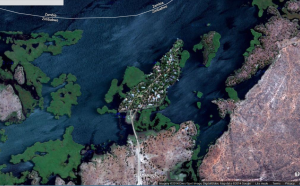 Msuna Island resort is located on the Zambezi river just off Lake Kariba and some 144 km from Victoria Falls.The less known tourist destination has the same picture as other locations near Kariba Dam, great for tiger fishing and canoeing safaris. Visitors can enjoy swimming, birdwatching, hiking and fishing. Hippos and crocodiles are the big animals you are likely to encounter on the island. There are occasional sites of elephants. In a region rich in wildlife, there are many things to see and do in this beautiful leisure park. The place also has many chalets, houses and self catering guest lodges in very good condition. Most are air conditioned with en-suite facilities. Visitors can hire boats from fishing lodges on the island. There are many other islands to see on the lake including the Snake and Antelope Islands.
Travelling
Since Kariba  Dam region is vast(about 224 km long and close to 41 km wide) your travelling preference may depend on where exactly you are going.
Kariba Town: Getting to Kariba Town from Harare will take you about 5 hours driving. The distance is 364 km (about 226,32 mi). Kariba has a ferry service linking the town with Victoria falls and Binga. It is possible to fly to Kariba Airport from Victoria falls, Harare, Bulawayo, Zambia or South Africa. It takes less that 50 minutes to connect from Zimbabwe cities  by air.
Binga & Msuna Island: reachable by road from Hwange, Victoria Falls and Kamativi. Msuna island is in Binga area very close to Binga Town.
Bumi Hills: If driving one has got to travel from Harare to Karoi, then Siakovu to Bumi Hills. It's an off road zone. 4x4s and small charter planes only. If flying you can connect from many places like Harare, Victoria falls, Kariba Town, Matusadona or Bulawayo.