The Place for Rafting, Canoeing & Fishing
Zambezi River countries are  Zambia, Democratic Republic of Congo(DRC), Angola, Namibia, Botswana, Zimbabwe and Mozambique located in Southern Africa.
The river flows from Zambia into DRC, it then goes through Angola and back in Zambia. It touches the north eastern borders of Namibia and Botswana near Victoria Falls. The river then covers the entire 555 KM border between Zimbabwe and Zambia. Finally it enters Mozambique until it reaches the Indian Ocean as seen on map below. It is Africa's 4th biggest river after Niger, Nile and Congo(Zaire) rivers. The Zambezi is about 2700 km long. It is Africa's largest river south of the equator.
The crown in the jewel is Victoria Falls. The world's largest waterfall is amazingly located at halfway mark between the source of the Zambezi and its final destination, the Indian Ocean. The river is devided into three sections Upper, Middle and Lower Zambezi as shown on map.
Tourism, Fishing, Canoeing Safaris & Wildlife
Zambezi is home to Africa big 5 and other well known African wild animals. Here you see elephant, lion, buffalo, cheetah,
leopard, zebra, black and white rhinos and a wide variety of other rare and endangered  animal  like pangolin. Most of the Zambezi's big and fascinating  wild animals are  found around the 550 km  Zimbabwe-Zambia boundary line.  You can see them from land and water starting in Victoria Falls to Kariba Dam and Matusadona all the way to Lower Zambezi  and Mana Pools National Park, a UNESCO World Heritage Site. Commercial and recreational fishing is done at Lake Kariba. The river is known for different fish species including the fearsome African Fighting Tiger Fish.  It attracts Tiger Fish enthusiasts from all corners of the world. Some experts do fishing safaris starting from Angola Namibia travelling through Botswana and Zimbabwe Zambia border all the way to the Indian Ocean in Mozambique. White water rafting category 4 is done below the Victoria Falls. River cruises, guided and unguided safari tours are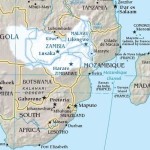 done at different spots. Boat tours can not be done for the full length of the waters as some areas are impossible to navigate due to rapids, dee and narrow gorges.
Flooding Fears
There are fears that the Kariba Dam Wall will one day collapse causing an unimaginable disaster. There are millions of people in Zimbabwe, Zambia, Mozambique and Malawi whose homes and lives may be swept away by a mass of flooding water if the Kariba Dam wall collapses.  The world's largest man made lake has been in existence since the 1950s and it needs serious repairing.