Cecil John Rhodes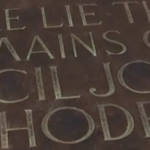 Cecil John Rhodes' legacy will forever be part of Zimbabwe's history and future. Cecil John Rhodes is the man who spearheaded the British occupation of Zimbabwe. In his WILL he asked to be buried in Zimbabwe.
Today his remains can be found at Matobo Hills National Park.There has been some talk about  removal of Cecil John Rhodes' grave from its location at Matobo Hills National Park in Zimbabwe. From what has been observed the Zimbabwean government is totally opposed to the idea. They know too well that there are several tourists from distant corners of the world who come to see Cecil John Rhodes grave in Zimbabwe.
When he died in South Africa in 1902, Cecil John Rhodes was then transported by train to Zimbabwe (then Rhodesia) where his body was buried. Cecil John Rhodes' private carriage train that carried his body can be seen today at Bulawayo Rail Way Museum. Cecil John Rhodes is not the only British buried at Matobo Hills. There  are 34 British soldiers including Leander Starr Jameson and Allan Wilson (pictured).They are buried at the highest point of elevation known as the World View.
King Mzilikazi the Ndebele leader was also laid to rest at Matobo Hills. Up to this date there are some public  institutions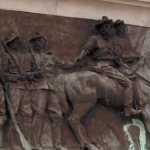 in Zimbabwe bearing these names. Among the lasting legacies of Cecil John Rhodes is  Victoria Falls Bridge. He commissioned it as part of his plans for the Cape to Cairo railway project. The Victoria Falls Bridge was finished in 1905 after the death of Cecil John Rhodes. Today the bridge is still used to take people across the Zambezi at Victoria Falls.
During his days in Zimbabwe Cecil John Rhodes used to live in areas near Nyangani Mountains  in Nyanga National Park. The park used to be known as Rhodes Nyanga National Park. It is one of Zimbabwe's oldest national parks. There is a small Rhodes museum in the area. The museum has few personal belongings of Cecil John Rhodes including  letters, photos and luggage suitcases.
Today Zimbabwe gets revenue from thousands of foreign tourists flocking to see the remains of Rhodes at Matobo Hills. Looking at Rhodes' love affair with Zimbabwe, there is no doubt, in good and bad times, for better or worse,  his legacy will forever be part of Zimbabwe's history and future.