Zimbabwe's Eastern Highlands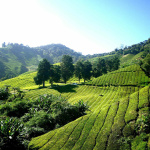 Eastern Highlands of Zimbabwe stretch for about 400km along the Zimbabwe-Mozambique boundary lines. They are a combination of higher mountains, valleys, green plantations and rolling countryside.Mutare, Nyangani Mountains, Honde Valley, Bvumba Mountains and Chimanimani combine to make the Eastern Highlands one of the most beautiful landmarks of Zimbabwe.Eastern Highlands is very unique as it experiences a relatively cooler and wet weather compared with the rest of Zimbabwe.
It is remarkable that there are very significant differences in terms landscapes within the Eastern Highlands.From the Granite Mountains in Chimanimani to the green fields of Honde Valley, the misty Bvumba Mountains to the Nyangani Mountain mysteries, the Eastern Highlands is a place of fantastic sights.
Mutare
The city of Mutare is provincial capital of Manicaland where the Eastern Highlands are located.The city itself has a number of tourist attractions and landmarks that include the scenic Christmas Pass, Cross Kopje, Thomson Vlei and Cecil Kopje.
Nyangani Mountain
On the Nyanga end of the Eastern Highlands, the place is rich with manmade lakes, exotic plantations and trout in the waters. This area is part of Nyanga National Park. Cecil John Rhodes used to own some ranches in the area. In years gone by the national park used to be called Rhodes Nyanga National Park. This place is where we find Mount Nyangani, Zimbabwe's highest mountain (2599m).
The area has got Mtarazi (Mutarazi) fall, Africa's second highest and the world's 17th highest waterfall. At 762m, Mtarazi is about 7 times higher than Victoria Falls. There are several other beautiful waterfalls and rivers in the area. The ever green Honde Valley completes the list of must see places around and near Nyangani Mountain.
Bvumba Mountains
Just close to Mutare town is the scenic Bvumba Mountains. From here one can view places in Mozambique and as far as Indian Ocean on clear days. The Bvumba botanical gardens are very special as they have a number of rare plantations including protea flowers and aloe plants where we get aloe vera. The nearby areas have got very beautiful green plantations that are a rare in Africa.
Chimanimani Mountains
On the southern end of the Eastern Highlands is the scenic Chimanimani Mountains. Here we find Mount Binga, the second highest mountain in Zimbabwe. It is also referred to as Monte Binga as it lies on the border with Mozambique.
There is no better place for hiking in Zimbabwe than Chimanimani Mountains. Chimanimani is very beautiful with some amazing places like Tessa's Pool and the Wedding Veil Falls, regarded as one of the world's least known beautiful waterfalls.