Attending Harare Agriculture Show 2015?
Some details if you are planning to visit the event:
Location: Harare Show Grounds
Opening Times: 0800hrs- 1800hrs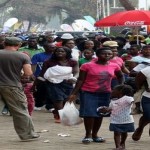 Phone: (+263-04) 780963-6
Fax: (+263-04) 780967
Email: info@zas.co.zw

The exhibitions have been running since 1895. There has been over 100 shows done so far.
Businesses and traders will mix and exchange ideas on during the event. There are also fanfares and amusements for families and children.
About 200 000 people attended the 2014 show and more are expected this year.
The last Friday , Saturday and Sunday are best days as there is a lot of entertainment, prizes and competitions going on.