Matetsi Safari Area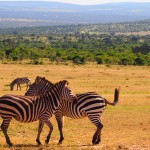 Matetsi Safari Area is found between Victoria Falls and  Hwange town.It is actually located between Hwange National Park and Kazuma Pan National Park. It gets large numbers of migrating animals from Hwange National Park, Zimbabwe's biggest national park with so many animal species including big cats, elephants and buffalo. Some of the animals also migrate from  Kazuma National Park and  Zambezi National Park. Matetsi  Safari Area was established many years ago as a hunting safari area. It is managed by Zimbabwe Parks Authority. It is one of the most well managed and easily accessible safari areas in Zimbabwe. If you are for the more remote and isolated safari areas, there are plenty in Zimbabwe, see the other sections of this site. The Matetsi Safari Area is subdivided into units 1,2,3,4,5 and 6.
Some concessions are a must visit.  They have some of the country's biggest buffaloes and elephants that have been seen year after year. The average size of elephants is about 51 pound a side with some bulls being over 64 pounds. Matetsi Safari Area has many resident and mobile elephants, buffaloes, lions, sables,buck, zebra and even big birds.
Matetsi Access and Accommodation
When you are in Matetsi Safari Area you will be very close to Zimbabwe-Botswana border. The area is very accessible from Victoria Falls and Hwange town. Matetsi is very reachable from  any major town in Zimbabwe. It is very easy to connect from South Africa and Botswana. You can choose to travel by air from either Harare, South Africa or Botswana to Victoria Falls Airport. You will then connect  from there to the safari area by road. Some people with smaller charter planes use Hwange Town Airport or the landing strip in Hwange National Park.You can actually be staying in Victoria Falls and then do your Matetsi business and safaris during the day depending with your personal preferences.  There are also campsites, lodges and overnight accommodation facilities that can be used if you do not want to stay in Victoria Falls or Hwange town.