Knives are out for a United States dentist, Walter Palmer, who has been identified as the hunter who illegally killed a famous lion at Hwange National Park.
Zimbabwe's "iconic" lion  named Cecil, was ensnared from a protected national park and shot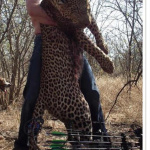 with a crossbow before being followed for more than  45 hours and then killed  with a gun, according to  the Zimbabwe Conservation  spokesperson Johnny Rodrigues.
Palmer then proceed to cut the lion's head off before skinning it. The lion was about  thirteen years old.
The conservation  task force claim that Walter Palmer, a dentist from Minnesota, allegedly paid hunters US $50,000 to track and shoot the animal.
Cecil was a well-known lion at Hwange Game Park.
A member of a local hunting firm Theo Bronkhorst has also been implicated in the crime. He is being  charged for illegally killing the animal along with the owners of the property that borders the game park.
In Zimbabwe a court conviction for poaching attracts a maximum prison sentence of 15 years.  The hunters will appear   in court this Wednesday.
A Zimbabwe Professional Hunters and Guides Association  spokesperson has  confirmed the suspension of  Bronkhorst's membership emphasising that  their organisation  does  not tolerate any unlawful hunting or any immoral practices by any of its members and their staff.
Animals are often tempted away from the protection of their parks so that they can be killed 'legally', although Zimbabwe authorities  insist Cecil was killed illegally.
A few years ago, one of Zimbabwe's largest elephants with a visible GPS collar was gunned down by a visiting hunter. No arrests were made.
The lion also had a visible GPS collar for researchers at Oxford University's Wildlife Conservation Research Unit to track its movements.
Attempts to destroy the collar were unsuccessful, which was how the animal was found.
The research unit's founding director, David Macdonald, said: "It's not many months ago that I watched Cecil with my hand on my heart as he strayed toward a hunting concession.
"On that occasion he turned back into the protection of the park, but this time he made a fatal mistake and I feel deeply sad, personally."
Mr Rodrigues added that now that Cecil is dead, the next lion in the hierarchy, Jericho, will most likely kill all Cecil's cubs so that he can insert his own bloodline into the females, which is standard procedure for lions.