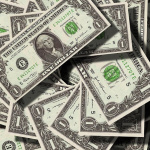 Zimbabwe recently abandoned its trillion dollar notes caused by a world record  inflation of 79,6 sextillion percent. The highest ever denomination was 100 trillion Zimbabwe dollars.  The one hundred trillion dollars are now collector's items. Today you don't have to worry about Zimbabwe's 100 trillion dollar bills as the country  now officially uses 8 foreign currencies  as legal tender.
We have been asked so many times on this blog about Zimbabwe money by travellers. Their main concern is that Zimbabwe currency is no longer in circulation and there are so many foreign currencies being used. The other questions pertain to cash shortages, mobile payments, credit cards and travellers cheques.
Here is some useful 'money information' worthy taking note of if you are travelling to Zimbabwe
Multiple Currencies
First, we advice that you carry US$ and South African rand as these are the most used currencies.
In Zimbabwe, travellers can make payments using any of the following currencies US dollars, South African rand, pula from Botswana, and British pound sterling, Australian dollars, Chinese yuan, Indian rupees and Japanese yen.  The US dollars are mostly used in the capital  Harare while the rand is more commonly used in  Bulawayo.
Though many foreign currencies are accepted we advice you to use $US.  Some 'rogue traders' may hit you with shocking exchange rates when they convert your money to US$ during transactions. Zimbabwe bank ATM cash machines issue $US. Cash is sometimes a problem.
**Travellers cheques are a NO NO. Do not use Travellers cheques!
Multiple Currency Challenges and Pitfalls
There are many challenges that are brought by multiple currencies. Transactions could become more tedious, leading to long queues at the till. Criminals can take advantage of the situation to buy goods with counterfeit currency as forgery is very easy with unfamiliar notes. The other problem is change. For travellers going to Zimbabwe we advise them to carry smaller denominations like 1 US dollar bills. This is important to make sure that you don't have to buy more than what you want or end up having to get sweets as change. As a traveller you want quicker, easier transactions, not to be bogged down negotiating currencies when you are racing against time to get to an appointment or a scheduled tour.
There is very little use of coins in Zimbabwe so you might not be able to get your change if you make big purchases.
Debit and Credit Cards Tips
If you are a family it is good to have 2 different debit and credit cards in different names or accounts. This will help you just in case things go wrong and here is why:
You may lose one of your cards or  your bank may notice questionable transactions causing them to cancel all the cards registered in your account. This will spoil your holiday big time. If you are travelling for a long period of time make sure that your bank and card providers are aware and if possible give them some Zimbabwe mobile phone number.  Given the cash problems, there is likelihood that you will over rely on your card which may trigger alarm if you use faulty card terminals.  This usually happens with many travellers  when a shop tries more than one terminal to process a payment.  Your bank may phone you to verify or they will simply suspend all your cards. You will save more if you use credit cards that have low to zero foreign exchange charges.
NOTE: Credit and debit cards are mostly used by big businesses, most small traders do not accept cards.  Visa and Mastercard are the most used.  Do not rely completely on credit cards.
 Mobile Payments
Mobile wallets are very popular with local Zimbabweans for big and small transactions. These services are provided by certain mobile services and can also be made use of for money transfers from South Africa. We are not saying this is what you have to do, it is simply a recommendation just in case you get caught up in the cash crises and you are staying longer. It is very safe and can be useful in day to day small transactions.  The most popular mobile payment service is EcoCash.
Extreme Money Emergencies
Just in case you cannot use your cards and you desperately need cash from your country, you have to ask people in your country to send you cash via Western Union or MoneyGram. This is the most reliable method used by 99% of Zimbabweans in diaspora to send money home. All you need is your ID and you can collect money from different centres.
Bargains
Zimbabwe businesses are in desperate need of cash. This may be an opportunity for bargaining. If you feel you have been overcharged you may offer to make a purchase at reduced price. Depending with the situation you may get yourself a bargain.