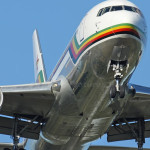 Zimbabwe's national airline Air Zimbabwe will be resuming  Harare-Dar es Salaam  Tanzania flights starting on Saturday  14th of May.
This is a welcome move to many Zimbabwe businesses and small scale traders who desperately need cheaper flight options to East Africa.
The country's flagship career hopes to boost tourism and business between Zimbabwe and neighbouring African regions through efficient and reliable air transport.
Few months ago, Air Zimbabwe announced that it will be resuming Harare-London flights in order to tap into the lucrative route that it lost in 2014 due to financial problems.
It already has regular flights from Harare to Johannesburg and Lusaka.