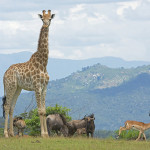 Halo everyone, thanks for checking zimguide.com. We appreciate your support and we are very happy that we have been nominated in 2016 Zim Achievers Award.
Warm thanks to travellers who have contributed to this site. More on this later.
Now what are the resorts to visit and things to see and do in Zimbabwe this 2016 Easter Holiday?
Around this time many people look at other alternatives instead of the popular Zambezi resorts mainly Kariba Dam, Mana Pools and Victoria Falls.
If you happen to visit them you will still enjoy but there are very few visible wild animals at this point due to vegetation cover and abundance of drinking water them away from the popular spots.
The best places are all the resorts stretching from central to eastern regions.
The Eastern Highlands including Chimanimani, Mutare, Nyanga and  Vumba Mountains are offer best views for your money as you will enjoy beautiful waterfalls and the lush green that will make your holiday a memorable one.
Make use of this site to check beautiful resorts and locations around Zimbabwe's major cities including Great Zimbabwe in Masingo and the other World Heritage sites near Bulawayo namely Matobo Hills and Khami Ruins.
We have covered places like Gweru, Kwekwe, Chinhoyi and Harare City which has the largest number of holiday resorts in Zimbabwe.
For wildlife viewing we recommend Gonarezhou National Park. With low rainfall patterns, the area is OK around this time. But please ckeck before you travel just in case!
For those coming from outside Zimbabwe our airports will be open and fully operating. If you are using our borders we wish you safe journeys.
If friends are looking for family friendly places to enjoy this 2016 Easter Holiday please refer them to Zimguide.com.
image rights geoff cooke