Gandavaroyi Falls Zimbabwe
Gandavaroyi Falls are located in the northern end of Gokwe district in Zimbabwe. They are considered among Zimbabwe's most breathtaking landmarks. The place is a massive crater surrounded by steep cliffs. Here the water falls into the deep cuts giving the whole place a scenic splendour. The water will then collect into a reservoir before disappearing into underground tunnels. It will then emerge on the other side via a connecting stream.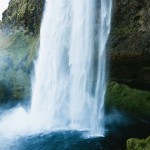 In years gone by, suspected witches were tossed into the pool never to be seen again. Now that times have moved, these things are now confined to the distant past. With all this, it is a shame that Gandavaroyi is a less known and less travelled destination. Even some Zimbabweans do not know anything about its existence.
The major problem here is poor road networks. Gokwe roads are not in good shape. The only good areas are the major roads around Gokwe centre. The rest of the area is difficult to travel especially in rain season. Gandavaroyi falls can be recommended as a part package including other tourist destinations in the Zambezi area. People can bunch it with trips to Kariba dam, Mana Pools, Chirisa, Chizarira and Matusadona which are in the neighbouring Zambezi region. In addition to that accommodation facilities and other services also need a facelift before people can come and spend some time in the area. If you plan to visit the area on your way to other places be aware of the state of services as mentioned above.